so as you can see in my signature there is a trainer. that trainer card is based off of pokemon reborn a game that I have played until the end of the current demo (which takes you up the 13th gym) pokemon rejuvenation is a fanmade game that was inspired by pokemon reborn with all current starters from generation 1-6. and now the trainer card for updates: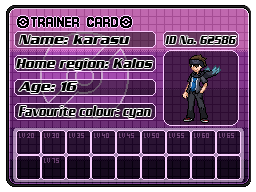 Wish me and my starter Kracka the totodile GL as I playthrough a hard pokemon game which currently has 9 badges as of version 7. if you want to look at the game yourself its pretty nice the detail on the sprites is cool and the stroyline is....
WARNING: if you do not like dark storylines that are not full of magic and rainbows and make the pokemon we all know and love really dark (as in murder, sacrifices & evil teams not bent on world domination but sacrificing & killing and creating madness also confronting with pokemon demons) DO NOT CLICK THE LINK OR PLAY THE GAME THEN!
http://www.pokemonreborn.com/forum/index.php?showtopic=19635
wish meh luck
Post Level: Banned from Ubers




Posts

: 1446


Join date

: 2014-09-07


Age

: 18


Location

: Probably under my bed



so finally got my 1st badge (yesterday -.-) and im still trying to get my 2nd because the stupid gymleader hasn't given it to me yet O_O
but heres an update to the trainer card with karasu who got a wardrobe change when I was trying to make him look like the male protagonist of the game and the team I currently have. enjoy with your eyeholes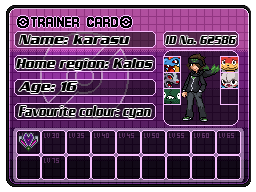 Post Level: Banned from Ubers




Posts

: 1446


Join date

: 2014-09-07


Age

: 18


Location

: Probably under my bed




---
Permissions in this forum:
You
cannot
reply to topics in this forum