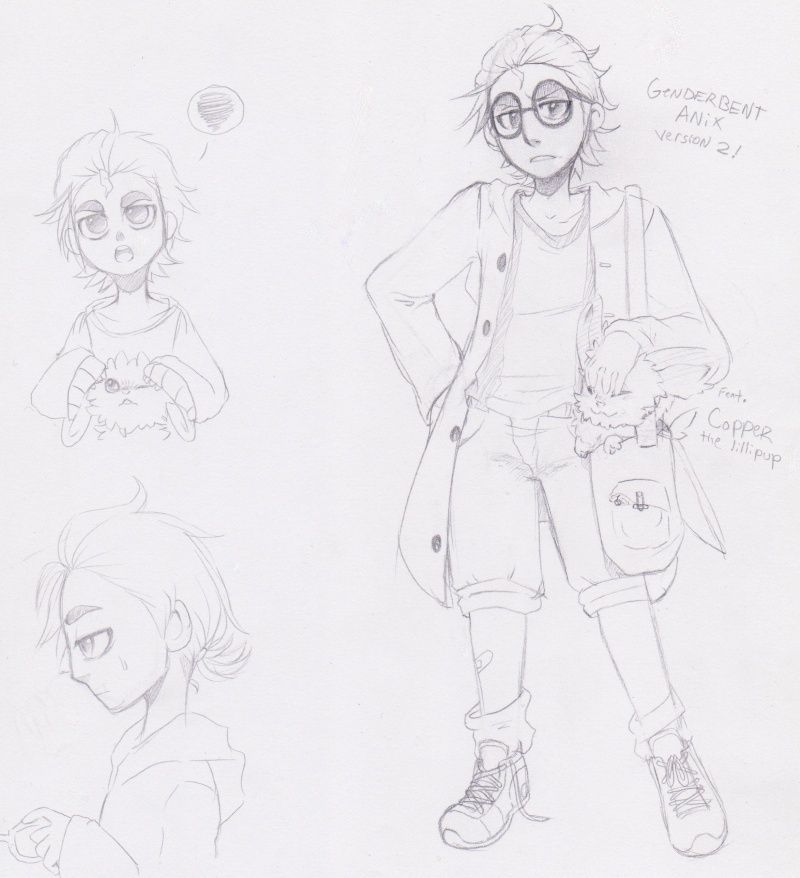 When I posted my doodles on this thread, one of the ones I liked the most was a genderbent version of my OC Anix and Silver August. Thanks to my buddy LlamaMinister, he recommended to remake my genderbent. I took his advice and made this version with my own dog, Copper (as a lillipup)~!  I like the way I look now and I've even made a couple little doodles too~
Hope you guys like this derpy male version of Anix.
Belated Slowbro




Posts

: 131


Join date

: 2015-07-15


Age

: 24


Location

: Unova



These are so cute omg !!!
Superior Serperior




Posts

: 337


Join date

: 2015-03-29


Location

: My dorm room



That's really cool, amazing and cute.

_________________
FC: 1005-9437-8269

''Then James Bond bursts into your house and smashes your phone out of your hand'' -Futurecreator 2015.
''Quote that shit.'' -Llamaminister 2015
Post Level: Banned from Ubers




Posts

: 1078


Join date

: 2015-03-14


Age

: 19


Location

: A million laugues above you.



It looks really, really good. I think this version looks a lot more like a genderbend than the last one. It is still recognizable, but it still feels different and original. I'm glad you took my advice on this one.

_________________
Life isn't the kindest mistress. She will do anthing and everything to break you and to try and force you to fall victim to her cruelty. You can't, however, let her win, for when you give up and succumb to life's cruelties, that is when you die as a person. Those who keep fighting, even if they are fighting a battle they can't win, are the people who truly succeed, because success isn't measured in how well you do in the end. It's measured in how hard you fight to get to where you are.

~LM
Skeleton




Posts

: 1322


Join date

: 2015-02-22


Age

: 20


Location

: Mars Colony D-26: Enigma Sector.



It does indeed look more masculine than the first one, I especially think the kid version turned out rather nice.

P.S. The lilipup is too adorable for me to live anymore W-W
Post Level: Banned from Ubers




Posts

: 937


Join date

: 2015-03-04


Age

: 17


Location

: The Land of Yogurt



This looks better. (And cute for some reason ^^.)
Bizarre Adventurer




Posts

: 744


Join date

: 2015-01-01


Age

: 15


Location

: Nowhere



For some reason it looks like the electric gym leader from X and Y
Solarbeam Sunkern




Posts

: 42


Join date

: 2015-05-10


Age

: 17


Location

: Ireland




---
Permissions in this forum:
You
cannot
reply to topics in this forum