I drew a image of the trainer sprite (with my hair colour and eye colour)
and with the pokemon I have in my party at the moment.
the colours in there names depict there typing (bright red is fairy)
Enjoy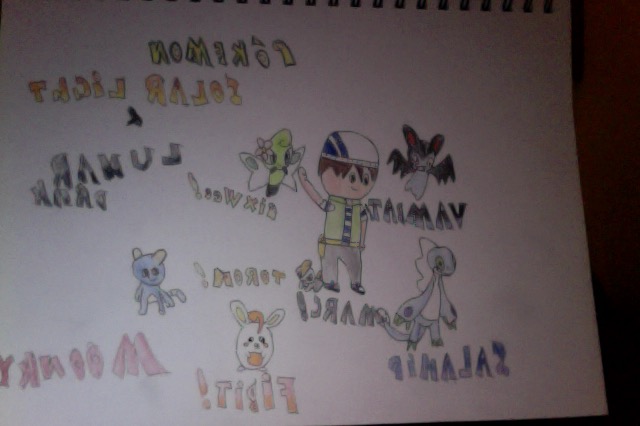 Looks great. Your style of drawing is nice. One thing though, you must have taken the picture with something that flips the image. It normally wouldn't matter but there's a lot of writing so a quick image flip would be nice.
Official Chatbox Promoter




Posts

: 327


Join date

: 2015-03-19


Location

: Earth... probably



I did flip it but when I tried to upload it the thingo said the image was to big or corrupted. I think I might of accidently corrupted it but its not that hard to download the image and than flip it in your MS.Paint though.

_________________
FC: 1005-9437-8269

''Then James Bond bursts into your house and smashes your phone out of your hand'' -Futurecreator 2015.
''Quote that shit.'' -Llamaminister 2015
Post Level: Banned from Ubers




Posts

: 1078


Join date

: 2015-03-14


Age

: 18


Location

: A million laugues above you.



I like the one that looks like it's part Aurorus. It's cute.
_________________
I am the eye in the sky / Looking at you / I can read your mind..
Fanfiction | Dragon Cave | DeviantArt | Order of the Griffin | Flight Rising | tumblr
(Thanks Gamer for the banner~)
Team Rocket Scientist





Posts

: 848


Join date

: 2014-11-13


Location

: In the north sky time flies fast to the morning..



ah I never noticed that salanip kinda does look like a aurorus but sadly it is a salamander but eh salamanders are cool when tehre poison water.
The drawing has a bunch if big issues, firstly most of the faces look off, as if they are misplaced on the head. Then comes the trainer, he lacks ears and the length of the arms compared to the legs makes him seem like an ape. The feet are not the same thickness as one is much thicker than the other, and it seems that one of the arms is longer than the other.
Post Level: Banned from Ubers




Posts

: 936


Join date

: 2015-03-04


Age

: 16


Location

: The Land of Yogurt



there kinda supposed to be looking like that seeing as my art style is cartoonish
Unless your art style is cartoonish in the way that it's asymetrical, I don't see how that would be the case.
Post Level: Banned from Ubers




Posts

: 936


Join date

: 2015-03-04


Age

: 16


Location

: The Land of Yogurt




Similar topics
---
Permissions in this forum:
You
cannot
reply to topics in this forum