With permission from DA to create a separate topic lets get this over with.
WELCOME ONE AN ALL TO KARASU'S BANNER EMPORIUM WHERE YOU CAN GET YOUR OWN BANNER FOR YOUR SIGNATURE!~
Now before this place gets spammed with requests let me show some of my most recent works.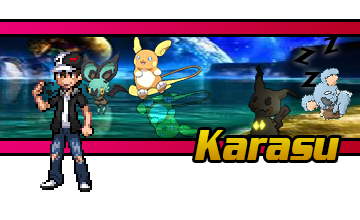 The 2017 Karasu Banner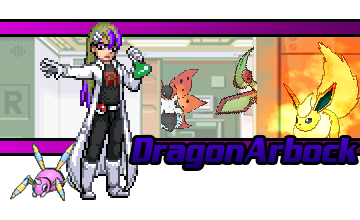 The DragonArbock 2.0 Banner
these 2 are new version that have been updated with better effects and better overall designs.
Now the order form
1. Background wished to be used this can be a theme or a Pokemon/Yu-Gi-Oh field card
2. Colours (don't correct me on the spelling its the Australian spelling ya muricans) the colours are for the layout and the name on the banner for example I had a red shade that was made into a gradiant and a yellow shade that was made into a gradient.
3. 3 or less pokemon (THAT EXIST FROM GEN 1-7! FAKEMON WILL NO LONGER BE USED!) you would like for your background as 3 or less pokemon are easier to work with.
4. A trainer sprite that you own or have asked someone to create for you I WILL NOT USE STOLEN SPRITES!
5. A Pokemon that exists from gen1-7 to be your favourite,mascot or partner pokemon beside you.
Now I will list things I will not do
1. Graphic content for the banner (Blood/Gore, Nudes/NSFW content)
2. Use stolen sprites
3. Ask for money in return for the banner
and its good to be creating banners again
Post Level: Banned from Ubers




Posts

: 1445


Join date

: 2014-09-07


Age

: 18


Location

: Probably under my bed




---
Permissions in this forum:
You
cannot
reply to topics in this forum