here is a set of my newly made sprites recolers and poke fusion plz rate them if you like
my pokeknight
(no pokemons where hurt when making his mace and shield(their based on them not made from them))
a new design i might start using when i correct the faults you may find plus some recolors and a scatch build rotom form type electric/psycic
(pretty sure that a steel colored scizor isnt new but made it non te less)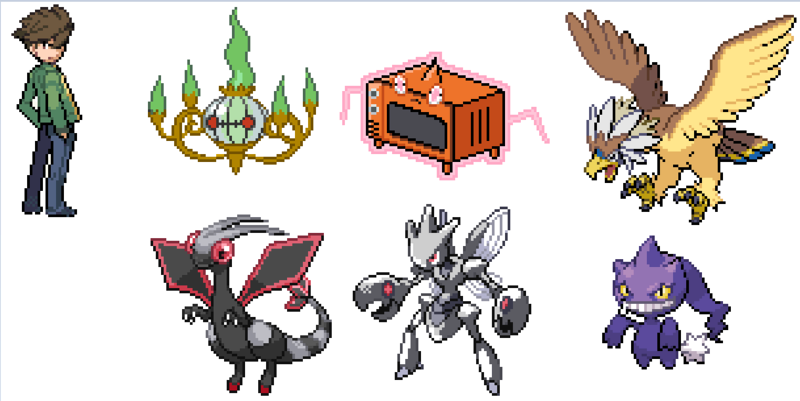 my first sprited pokefusion
(has no name yet feel free to leave a name if you know a nice one)
Wild Abra




Posts

: 8


Join date

: 2015-10-17


Age

: 21


Location

: the netherlands



For the most part, the concept of the recolors and fusions are SAVAGE (FOSSIL KILLER GUT AT The TOP). Especially with the Chandalure and the Haxorus breed. Though I do suggest one thing and for the sake of criticism if you don't know it already, but enlarging pixel art is a big deal here. It kind of ruins the awesomeness appeal of the things we make and it'll get bad ratings because of that (just saying).
But even so, none of these aren't that bad.

Lv. 5 Regice




Posts

: 12


Join date

: 2016-06-08


Age

: 17


Location

: Somewhere you're probably not (UNOVA!!?)



thanks for the advice i probally forgot to set the zoom back to 100% on paint because all wad made without upscaling
Wild Abra




Posts

: 8


Join date

: 2015-10-17


Age

: 21


Location

: the netherlands



yeah I think all these sprites are pretty solid just resize is by either dividing it by 2 or 4 to make it not upscaled
Post Level: Banned from Ubers




Posts

: 1445


Join date

: 2014-09-07


Age

: 18


Location

: Probably under my bed



I'm really DIGging the fossil weapons you made, though you could have done some editing to make them just skulls, without any flesh. The recolours are pretty good and the rotom form looks cool, I can tell a lot of effort went into it, though for the future try to make it from the same angle as other pokemon spirtes.
Post Level: Banned from Ubers




Posts

: 937


Join date

: 2015-03-04


Age

: 17


Location

: The Land of Yogurt




---
Permissions in this forum:
You
cannot
reply to topics in this forum