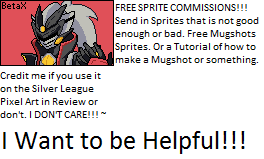 Rules:
1. Don't send me Jpegs nor Upscale sprites.
2. I can't do sprites if there's no sprites. (link or post to your drawing and colors what it's look like will do.)
3. I only do Sprites from Pokémon Games. So no Megaman Sprites or etc.
4. This takes a long time to do it. So be patient.
5. HAPPY BIRTHDAY!!!
You're doing free commissions Beta :3 It'd mean the world to me if you could do a mugshot of my character Hunter. I've tried my best to do a new one but can't seem to get it right. If you want I can link you to a picture of Hunter from my deviantart page.
http://alexanderravenflame.deviantart.com/art/Hunter-HGSS-Opening-457256680
Thanks so much :3 and take as long as you need. And keep sending those awesome sprites to PAIR ;D
-Hunter_Legacy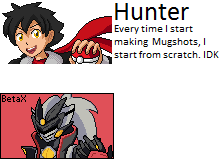 Finish!!! You can use this at the The Silver League Pixel Art in Review. You can credit me or not. That depends on you.
Thanks SOOOOOO MUCH BETA! But I can't see it for whatever reason X3. IDK, can you email it to
justintaylorwright2011@gmail.com
. If you don't mind that is. Btw, this was so fast! And just in time for a GREAT birthday gift.
Your welcome! I just notice that your 15 too. Anyways, I post it to your email!
Once again, thank you SOOOOO MUCH BETA! You have no idea what this means to me, your kinda an idol XD. Btw, I just noticed as well your 15. 15 with your talent? I thought you were 20 minimum XD Cuz talent like that takes years of practice.
I don't think age is really the issue. I would've been spiriting @ 15 too but I didn't get my laptop until my 16th birthday. I've had my ideas and hand drawn artwork for my gym leaders since like October of last year.
Top Percent Rattata




Posts

: 95


Join date

: 2014-08-22


Age

: 19


Location

: Hoenn



Beta if you can make me a cool mugshot for my trainer sprite that would be amazing

also are you able to do overworld sprites like riding a bike diving running walking etc?

Post Level: Banned from Ubers




Posts

: 1445


Join date

: 2014-09-07


Age

: 18


Location

: Probably under my bed




---
Permissions in this forum:
You
cannot
reply to topics in this forum